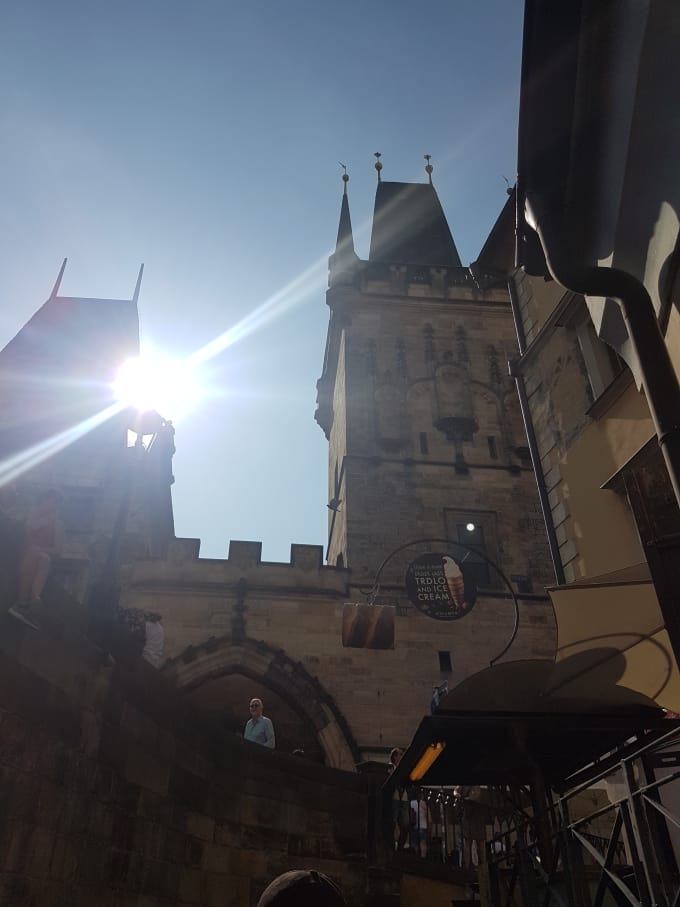 Prague – Fairytale city, ever-growing European destination and stag-do central, famous for its cheap drinks, charming streets, hulking cathedrals and everything in between. As beautiful as it is, however, Praha is not quite all it's made out to be.
The first step on any traveller's list in the capital is, almost invariably, the eight-centuries-old Charles Bridge. Crowned by statues of saints looking across and beyond the Vlatava river, the bridge brims with more life and vitality than some smaller city centres do altogether. Musicians and artisans crowd the walkway; the soundtrack of seagulls and footsteps harmonises with violins and accordions, crafting a mosaic of the modern and the timeless. Street Picassos lend the bridge, which connects Prague's old town with its castle (a tapestry of wonderful buildings, and almost a town in itself), a certain Montmartresque charm; though in the summer months you'll want to avoid the walkway during the day, when the crowds begin to rival those on Oxford Street. Still, standing on the bridge and looking out the winding arms of the river which hugs the city and the multi-coloured stone buildings beyond makes bearing up with the crowds worth it, though views are better enjoyed from underneath the giant metronome, an unlikely attraction, at Letná park.
Once you've crossed the bridge, you'll emerge from under the tower into one of Europe's most celebrated Old Town Squares. Famous for its proximity to Prague's most popular tourist sights (Church of Our Lady, astronomical clock), the square is populated by tourists, street-performers and snake-charmers. On all sides it's surrounded by tourist traps selling, amongst other nick-nacks, beer laced with cannabis.
While the sights, sounds and smells are initially charming, any veteran Europhile will soon find themselves whisked away to one of the many outdoor restaurants serving surprisingly expensive food. While Prague's growing reputation as a tourist hotspot has seen to the city's status as a cheap destination, it's worth taking a walk to find a hidden gem. Jazz Bar, near Our Lady, serves traditional homemade food and beautiful Tmavé and Černé (dark and black) beers at a reasonable price, though you might want to opt for something more upmarket if pub dining isn't your scene.
Tourists with a sweet tooth will have to try delicious trdelnki. These large 'chimney cakes', sometimes filled with chocolate or ice-cream, were originally Hungarian snacks, though their popularity has carried them across the border, and now kiosks dedicated to these sweet treats are easier to find here than in Budapest. But tredlnki aren't the only kings of the Czech street scene—those looking for food-on-the-go will be loathe to miss out on one of the city's many delicious hot dog stands.
Travellers planning longer breaks should take a hike (or one of the city's charming trams!) to Vyšehrad fort and Strahov monastery, contenders for the best views of the city. The latter is close to Petřín park, home to Rozhledna, Czechia's answer to the Eiffel tower. Grey and less graceful in its design, your time and money is better spent exploring the nooks and crannies of this delightfully expansive green space. While the exhibition detailing the history of Rozhledna is free and worth checking out, the public sculpture is too far away from the city centre to act as an eeffective viewing platform.
Those seeking architectural curios don't need to trek to the overrated Dancing House, and instead seek out an entrance to the Senate Grounds, Wallenstein Palace's Gardens; one of Prague's hidden gems. Located underneath the castle, the grounds can be nevertheless hard to locate, but it's worth making your way here simply for the Dripstone Wall. Vague and ghastly figures resembling tortured human and animal faces have been carved into this natural formation, while obscure doors and suggestions of entrances tease a hidden world beyond.
If the grounds' grotto isn't enough to satiate those looking for a dark tourism hit, the hour-long train to Kutná Hora should more than do the trick. At first a relatively unassuming small town, the winding roads from the square give way to large boulevards the end of which sit a treasure-trove of architectural delights. If Prague is a fairytale city, the unlikely marriage of the Italian Court and the interposingly gothic St Barbara's Church render Kutná Hora a living dream, as you walk your way down roads unchanged and untainted by centuries, bustling alongside omnipresent ghosts of royalty long since passed. The view is even better from afar as you take the long, forested road leading toward the train station, the town sprawling itself out in breath-taking panorama, the postcard promise of a Medieval city which will never quite shed its past.
By far the most popular attraction to this unlikely excursion, however, is Sedlec Ossuary. This unassuming chapel is home to approximately 60,000 skeletons, decoratively preserved in abhorrent and awesome statues resembling chandeliers, coats of arms and giant goblets, both beautiful and grotesque. Many of the dead were victims of the Hussite Wars, their wounds are still visible in fractured skulls and broken limbs. An obscure exploration into the history of the human psyche, one of Bohemia's most-visited attractions offers a rare dynamic glimpse into our ancestor's perception of death, the arrangement of the bones both celebrating the lives they bore while also aiming to reinforce that long-held belief that we are all equal in death. Bones stacked in piles, stored in corners—there can be no gravestone bigger than another. We are all poor in death, but never alone. And, what's more, this state is inevitable—something that is easily forgettable when stepping out into the sunshine, out of the hush, and into the bustling timeless town beyond.
Prague, in the end, is much like Venice—a postcard-perfect city, with beautiful spaces to relax in, but equally full of tourist traps. Spend a day in the capital for those perfect Insta pics, but you'll have a better time exploring Czechia's smaller—and cheaper—towns instead.
Matteo Everett
Note: this is an edit of an article which originally appeared on wander.media